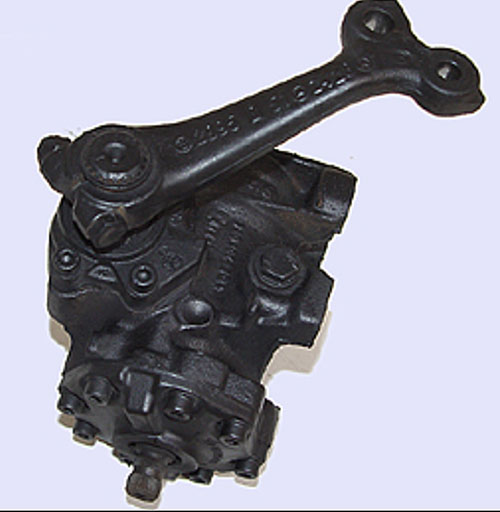 Since the front suspension has been of the front steer variety (rack and pinion in the front of the axle),and we're going with steering box and idler arm in the rear of the axle, we're facing some problems with the ackerman angle. Easy as it seems, the knuckles or spindles are mounted on the wrong side, to bring the steering arms backward, instead of forward. Generally this is seen as bad practice, since the ackerman angle will be negative. In effect, if you'd just mount a steering rack behind the axle, connect it to the steering arms and calling it a day, the steering would act very badly driving in a turn.
Bending my mind around this issue, I have come up with a few solutions, some of which haven't been really practical. CNC machined idler arms were designed and ordered and they which would have worked. Some time ago, I happened to find a pic of a Mercedes w124 steering box.
In this pic the Mercedes box is upside down so the pitman arm can be seen. Since this resembled the cnc arms I had already ordered, I thought this might work, an additional benefit being that this is all factory made, which would make it feel safe to use.