&nbsp

What's happening outside the garage season?
Events, some problem solving, cars at meetings, cruisings etcetera.
2008
&nbsp

First time cruising

By mid april 2008 the Essex was in driving condition.
Håkan's 1930 Chevrolet truck was a worthy cruising companion.
The better half

After registering the Essex and gotten it street legal it was time for the builder and wife to go cruising.
(April 16)
May day Cruising
| | |
| --- | --- |
| Good friend and club mate Stefan's '41 Nash Coupe. | |
The Poutanen brother's own this '30 Dodge, which they built in only a couple months.
Some two hundred cars attended the may day cruising this year.
| | |
| --- | --- |
| Later in the day after having a pick nick this photo was taken. | |
K1 test facility exhibition May 10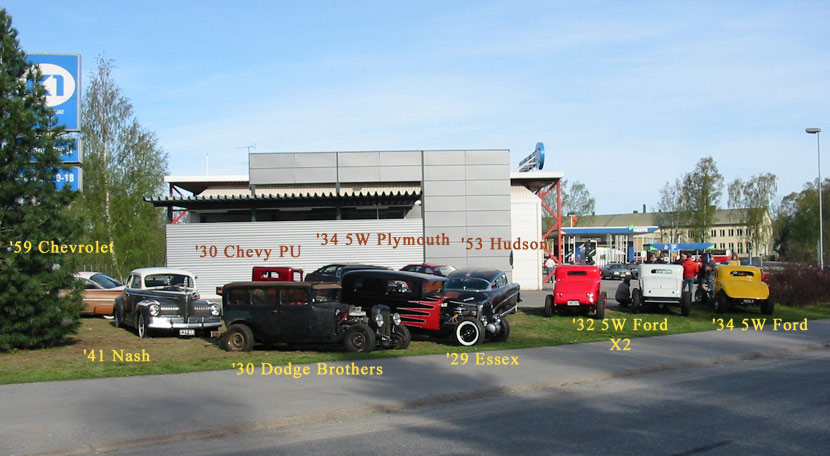 | | |
| --- | --- |
| | Uuttu´s red coupe quarter to the left, Aulis' gray 5W, and Lörs' yellow coupe to the right. |
Aulis' deuce sports a 409 Chevy big block with two fours, coupled to a manual tranny and a quickie rear. Should be enough for a white knuckle ride...?
Note stylish blister on hood side.
Uuttu's red deuce 5W coupe, Jukka's '53 Hudson Hornet, a '34 Plymouth, Håkan's '30 Chevy Truck, Paula's '59 Chevy Impala...
And Marika's purple Beemer. Yuk! Get that junk out of there and get some decent wheels, will ya ;-)
| | |
| --- | --- |
| Driving home from the exhibition, I saw my Buick from the out side at speed for the first time. Looked cool! | |
Problems ?
Water found its way to the oil pan even after the intake had gotten a new gasket.
Next the heads were taken off, tested for leaks and mounted with new gaskets and sealed securily with mopar head gasket sealant. New intake gasket. Still water in the oil.
Next the timing gear cover, through which two water channels are routed, got a new gasket, with silicon sealant even on the bolts, and still there is water in the oil.
Not fun.

| | |
| --- | --- |
| Note how clan everything is. I guess the previous owner of this engine has done some cleaning up here. | |
The Buick's new owner
The '60 Buick was sold.
Here's the new owner and her boy friend leaving for Pori.
| | |
| --- | --- |
| Here's the last of what was seen of this car... | |
This is what I ended up with taking as part payment...
Jeez, what a loooovely car! No wonder she looked happy when she left this junk here, and rumbled away in the Buick.
Got it sold inside 24 hrs though :-)
Go on to the next page
[ Experiences and modifications ] [ Other Essex rods ]