Copyright Björn Hammarström 2010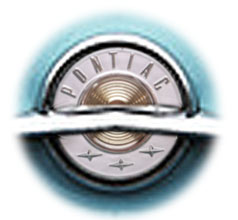 &nbsp

Ok, lets get started.
The wheels are important.
And so is getting control of the rust.

This Pontiac seems to have been ordered and made without a side mirror (cost $ 6.70 in 1957).
This new one is bought from Mooneyes in Santa Fe Springs.
As no gasket was included or available, it was made out of thin black sheet rubber.
(October 2010)
The new wheels are a swap meet find, and are off a Buick station wagon. They're 7" wide, and are a perfect fit in the front. The rears will be widened to 8".
Here a new wheel is tried on with an L78-15" tyre and a trim ring.


The tyres will be 70-profile radials.
After removing the bench seats, the carpets could be pulled out, and the floor was exposed.
The wind shield has been leaking, and a previous owner has installed insulation under the carpet. Perfect conditions for rust.
Here a patch or replacement panel is in the process of being fitted to the floor.
The beads have been rolled at Kim's paint shop.

This is what the floor looks like after some serious welding, grinding and painting.
The unpainted thingy in the middle of the floor is the under seat heater.

Winter's here.
Not a good thing as such, but I gotta admit that it would be hard to find motivation to haul myself out to the shop if it were summer all the time...

These are the new rear wheels.
Or more like a kit.
"Just add welds, blast with sand and and coat with powder!"

Waiting for the wheels to come home from the sandblasters, an altitude alteration was decided upon.
Here, as some vital bolts are amiss, the alignment is a bit off.
Everything under this car seems to be brand new! New brake shields, shocks, bushings, kingpins... A nice surprise when every nut and bolt is totally free from rust and easy to work with!
A brand spanking new angle grinder was used to cut one and a half coil off the new springs.
The front end came out a bit lower. At least the floor jack got stuck under the car!
(November 2010)

The old engeine rar crappy even after renewing everything in the ignition system and mounting a new carb.
It misfired constantly, often running on seven cylinders, fouling one of the plugs...
Here's how it sounded after all the service was done to it. I never found out why it ran so bad, and just gave up.
To drive this engine with a manual transmission was a real pain in the rear,
... And here's after the converion to fuel injection.
No revving here, as it actually is the rist time the TPI engine was fired up in it's new environment. The difference is still easy to notice.

A Pontiac Trans Am GTA was bought and driven home to act as a donor car. The GTA sports a 350 cubic TPI engine and a
TH 700r4 auto transmission, which will be transplanted into the Chieftain.
The Trans Am is actually a custom built pick up!
For tax reasons the only reasonable way to import luxy/expensive cars to Finland during the eighties and nineties was to build pick ups out of them, as a normal GTA would have been more than twice the price!
And Whew! It's soo ugly with the lengthened rear!

This car should really be displayed at some TraFi (the Finnish Transport Safety Agency) museum for Finnish traffic culture.


Steelies widened, blasted, epoxied, filled, primered and painted gloss deep black Glasurit urethane.
Soon to be shod in BF Goodrich and Stinger tyres.