Copyright Björn Hammarström 2011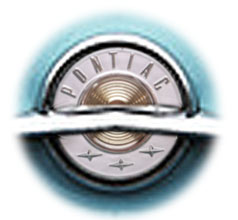 &nbsp

The interior in the Chieftain is in bad shape.
A new black leatherette upholstery was decided on, and a simple custom design
whipped up, retaining some of the originals design.

Doors and quarter panels
The right hand side of the interior looks like this with the seats out.
Part of this design will be retained to keep a bit of the original feel.
(December 2010)
The lowest part of the doors will be pleated.
First, the Leatherette, a piece of 10 mm (3/8") thick foam and cotton cloth was glued together to a laminate.

| | |
| --- | --- |
| Then seams were sewn at 40 mm (about 1-½") intervals to form the pleats. | |
A lot of pins are needed to get the top pleated part sewn accurately to the rest.


The wifes hands in the pic. We don't usually work together on cars, so this is a very nice out of the ordinary experience.
(January 2011)
New door panels were cut from plywood.
The centersection of the upholstery is stapled to the panel.
As work commences, surplus material is cut away with scissors.






Most of the foam that goes on the back side is cut away from the pleats.
The first door panel is ready and tried out on the door.
The door handle is stil missing in this picture.

Here's what the original looks like, and as can be seen, some of the original design is retained.
The seats
The seats will have rolled pleats and they're laminated and sewn the same way as the door parts.
This time, though, the pleats are sewn 60 mm (about 2-½") wide.


The rolled pleats should be done with 20 mm (¾") thick foam, but there was no way this would be done with a good result on our home sewing machine.
| | |
| --- | --- |
| The seams were turned over and sewn once more to form rolled pleats. | |
| | |
| --- | --- |
| | And this is what the rolled pleats look like when turned right again. |
| | |
| --- | --- |
| A first test piece with piping. | |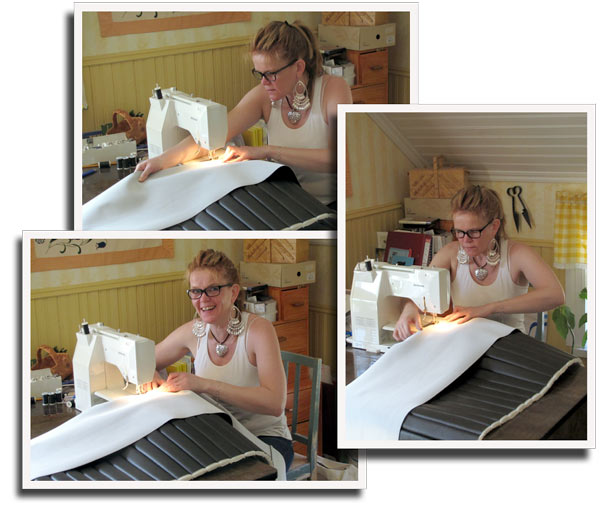 The rear seat being sewn by the wife. She's obviously having fun!
(April 2011)
| | |
| --- | --- |
| | The bottom part of the rear seat ready to go into the Pontiac. Looking good so far... |
The summer of 2011 went by with the front bech seat in this condition, with only a black blanket thrown over it, and now's the time to change this.
(March 2012)
| | |
| --- | --- |
| | The wife at her sewing machine again, this time tackling the seat cover for the front seat. |
Here she's posing proudly with the finished front seat.
It actually got us close to giving up. upholstering a front bench seat isn't as easy as you'd think...
(April 2012)