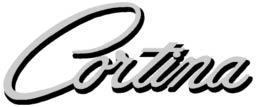 Not much more was done to the Cortina after mid March,
but as the spring came, it was time for some test driving
and I needed to get my racing license.
The trailer loaded and headed to the track for the first time.
Leif came along, and we had a nice day and learned a lot. Apart from the ignition timing being a bit off, the Cortina performed nicely.
(April 25 2013)






The theoretic part of the racing license exam was held in March, but now it was time for the practical part, which was held at the Kemora track.
Here's the Cortina in the pits after unloading from the trailer.
(May 6 2013)
| | |
| --- | --- |
| The participants walked around the track, analyzing the curves and discussing driving lines. | |
Gulf Historic Race Cup 2013.
First race at Botniaring. May 11-12



After unloading the trailer a drivers meeting had to be attended.
Training and time laps were driven on saturday.
(May 11 2013)
Some checking up before the time laps.
Yours truly in the red go faster clothing.



| | |
| --- | --- |
| | The Hammerspeed team assembled leaning on the Chevy. |
Waiting to get out into the track pits.
Calle is giving some last minute instructions, or something to that effect.
(May 12 2013)



| | |
| --- | --- |
| | Lining up for the start of the race. |
The Hammerspeed Racing team looking happy after receiving a 2nd place prize.
Leif on the left, Björn in the middle, and Rune on the right.



Gulf Historic Race Cup 2013.
Second race at Kemora. June 13-14
| | |
| --- | --- |
| | Calle trying hard to over take on the inside of a curve. |
| | |
| --- | --- |
| The Hammerspeed Cortina 1200 actually being faster than the 1600 Twin Cam Alfa Romeo in the first race of the day. | |
| | |
| --- | --- |
| | The cylinder head gasket blew, but was changed fast and economically without waste of time by the team mechanics Rune and Leif between races. |
When the cylinder head gasket blew the engine was severely overheated, and a loss of power could be noticed. The limited slip rear end failed too, so no further racing was attempted this season.
We still got a third price in class F/D in the 2013 Gulf Cup!
Introduction, Body work, Details, Tech, On the track 2013 Experiments and modifications
Modifications for the 2014 season On the track 2014 Modifications 2014-2016 On the track 2016
Karkmotuning
Essex
NASCAR Olds
1957 Pontiac Chieftain