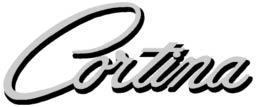 Now the bodywork is finished.
For the bright new paintjob to be at its best,
a lot of details need to be polished and mounted.
And painted.
Calle brought the Cortina back from the body shop on his trailer.

(Dec 31 2012)






New years eve in the garage. Whith some help from a buddy new headlights were mounted.
Late at night door handles and a few chrome details were added.

The obligatory white stripes were measured from a photo of Alan Manns car in 1967, then masked and squirted rattle can white.
(Jan 1 2013)



| | |
| --- | --- |
| | With the paint dry, the masking tape removed and the Consul emblem mounted to the hood, the car starts looking like a racer. The park/turn signal lights still to be mounted. |
| | |
| --- | --- |
| The best parts for the rear lights were chosen from five sorry looking light assemblies, and then polished and mounted. | |



The seat attachment rails were cut out. The right one because the car won't be used for rally (only one seat needed in a track racing car), and the drivers side one because it sat too high for my liking. Also, of course, because the seat attachment rails had been made using way too much heavy materials, and as we're not dealing with a lot of power in this car, any weight saving is beneficial.
As can be seen in the pic, quite a pile formed on the floor as the parts were cut out. The weight of this pile must be 20-30 lbs. 15 lbs should equal about one horse power...
The inside of the roof is now painted black, and the floor is in near paintable conditon.
(Jan 3 2013)
Yours truly trying on some safety gear.
We went to Lautamäki racing to try out some personal safety wear, helmet, head and neck support (HANS), coveralls, and bought FIA approved gloves, underwear and shoes.
(Jan 5 2013)






The floor's just been painted black in this pic. Lots of time went into masking off parts not to be painted.
(Jan 12 2013)
| | |
| --- | --- |
| In the rear some red was added to match the doors, which were painted red on the inside earlier. | |
| | |
| --- | --- |
| | The trunk's in the process of being painted, and as can be seen a lot of masking here too... |
Introduction, Body work, Details, Tech, On the track 2013 Experiments and modifications
Modifications for the 2014 season On the track 2014 Modifications 2014-2016 On the track 2016
Karkmotuning
Essex
NASCAR Olds
1957 Pontiac Chieftain