Odds and ends, a bit of driving, and improvements.

| | |
| --- | --- |
| | The most inspiring thing to do after paint was to mount the rear lights. Ther result turned out nice, and the rear end looks pretty factory. All the work with the bumpers paid off now, as everything fits nicely. |
The right hand emblem said "307", so a bit of artistic liberty was taken when painting the black, so it now seems to say "327" instead.
Hopefully ot many will notice.






Lots of work to complete the front end, as every detail had to be polished.
Autosol aluminum polish seems to make a nice scratch free shine on chrome, asopposed to the Kromglanz, that will make chrome look cloudy. Adjusting and aligning everything was a bit of a chore, as this car has been dented good in all corners.
Finally the wagon is sitting complete in the sun in all its glory. It looks real nice in its "Armor Blue" special gray-blue hue, polished brightwork, and new wheels and tires.
A great feeing of "mission accomplished", even if there's still lots to do.



| | |
| --- | --- |
| | An old pic from last fall as a reference. It really was pretty ugly. |
The first cruis-in with the Bel Air. It felt real nice to be out in the crowd with new wheels.
(30th April 2019)



The traditional family photo was snapped again this year, as tradition bids, with camera and self timer.
With kids all grown up, there's only two of us left in the family.
(May 1st 2019)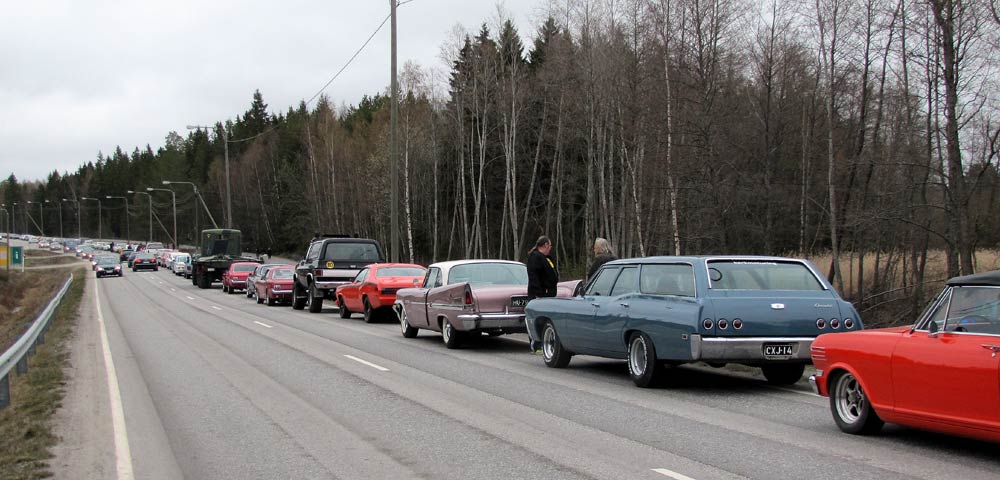 The Mayday cruising was a fun event as always, even if the weather wasn't all that cooperative. Lots of cars in attendance, and a lot of nice people to talk with after a long winter of hibernation.
1:st of May is a date many of us aim for, working on our cars during the winter season.
A very important thing still missing is a new exhaust system. Dual exhausts with Raptor mufflers. Bolt on kit. "Just cut, weld and mount"
This was a pretty work intense project, but the results were well worth it.



| | |
| --- | --- |
| | Now the wagon sounds great. I just had to take a quick little vid of the nice throaty idle and post it on youtube. I think the bumpstick might be a smidgen bigger than standard, as the idle has a bit of a lump to it. |
| | |
| --- | --- |
| Next some work on the front end was needed. Bushings and grommets were changed to new ones, front springs shortened, and a LOT of caster was dialed in. | |



The Chevy now sits really nice with a bit of a front rake just as I like it. Here the rear lights are animated to show how the sequential rear turn signals were meant to be done.
This was never done in reality.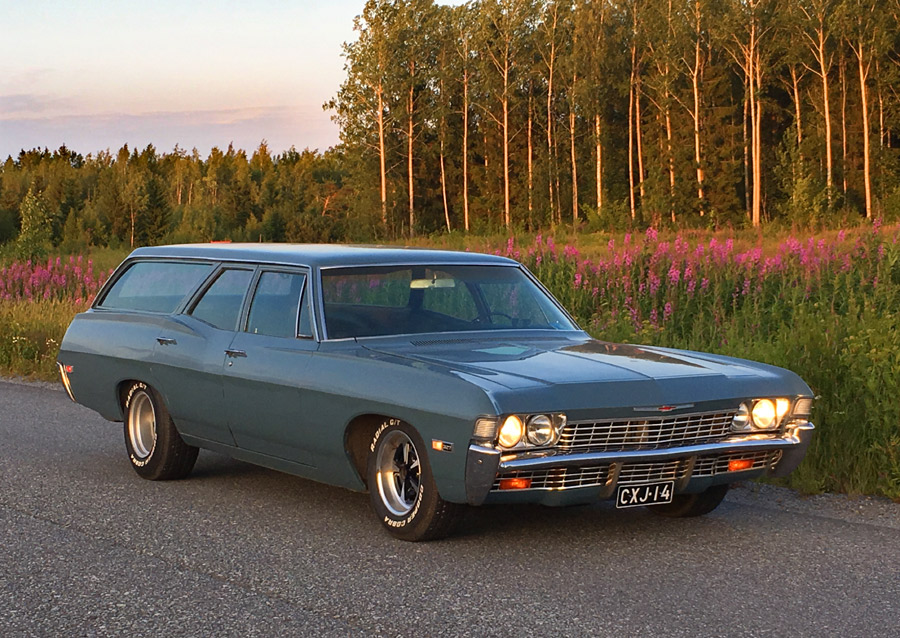 The 1968 Chevrolet Bel Air wagon was sold in the fall of 2019 to raise funds for a new project car.